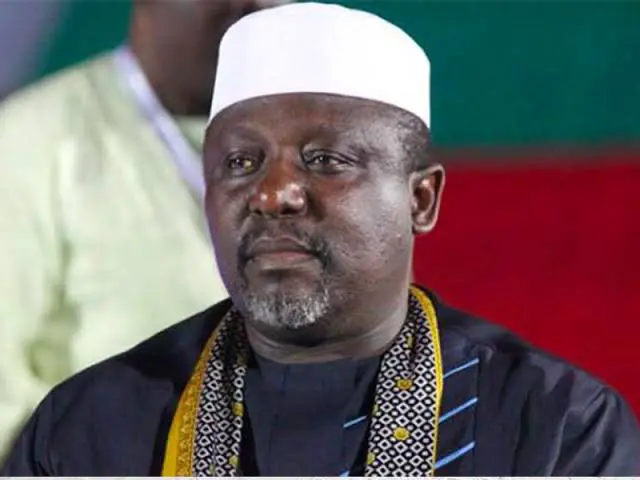 Last week's order by a High Court in Owerri, presided over by Justice Fred Njemanze for permanent forfeiture of properties belonging to him and members of his family, including Eastern Palm University, Ogboko belonging to the Rochas Foundation; Royal Spring Palm Hotels and Apartments; IBC staff quarters, among others, has brought the battle to a head.
Former Imo State governor, Owelle Rochas Okorocha, who ruled the state as personal estate, has seen better days. For eight years, between 2011 and 2019, he ruled the eastern heartland with the aura of an emperor; bestriding the state's landscape, so to speak, with his clodhoppers in a manner that left no one in doubt about lordship. But not even his worst enemy could have predicted his lot two years after his reign.

Okorocha had Imo, one could say, in his pocket. He had, as he once boasted, retired the likes of Chief Emmanuel Iwuanyanwu, Senator Arthur Nzeribe, Ifeanyi Ararume, Ikedi Ohakim and the likes; those who mattered in Imo politics, and he was the only man standing.
Indeed, he stood tall and ran the state as he wished. Upon taking office on the back of popular support in 2011, Okorocha embarked on 'massive' road constructions. But the roads were poorly constructed, too narrow, and without drainage systems. In a few months, they began to crack. Presently most are in ruins.

A trip from Okigwe Junction, off Enugu-Port Harcourt Expressway through Anara town in Mbano to Orlu is tortuous, much more so than the one from Orlu to Owerri. The road was also built by the former governor in his first tenure, but presently in bad shape. And some accounts suggest that early N200 billion was misappropriated, in addition to several properties during this period.
Pensioners bore most of the brunt of Okorocha administration's failures. None was allegedly paid proper pension since 2014. Payment ranged from 10 percent to 20 percent and hardly up to date for some, yet others, by their accounts, had not been paid in 72 months when he left office in 2019.
But today, Okorocha, much like those before him now epitomizes the ephemeral nature of power. His reign was without restraint; his fall has been without strain, as he continues to face onslaught from the new sheriff in town, the incumbent governor of the state, Senator Hope Uzodinma.
The rift, an obvious escalation of the rivalry between the duo, which started in the lead up to All Progressives Congress (APC) primaries in 2018, has continued without relenting. Okorocha who used his time as governor to build a political dynasty in the state, had sought to consolidate his family's hold on power by imposing his son-in-law, Uche Nwosu as his successor.
The ensuing battle between him Uzodinma for the party's ticket, divided the party into factions, with Uzodinma ultimately emerging the party's recognized flag bearer; an outcome Okorocha blamed on betrayal by then national chairman, Comrade Adams Oshiomhole.

At the start of the rivalry, Okorocha, who was governor, deployed the resources at his disposal to discredit Uzodinma. And when it appeared to him as though he was having an upper hand, he chanted that "Hope Uzodinma is Hopeless." But ultimately he lost out in the ruling party, with the party's national leadership backing Uzodinma.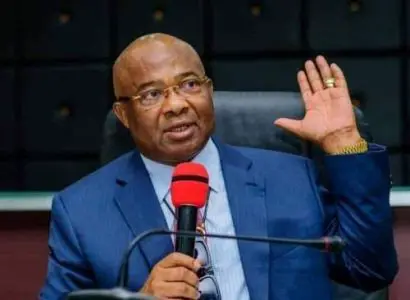 And although the actual governorship election later in 2019 saw his son-in-law, Nwosu who subsequently defected to Action Alliance, come second, with Uzodinma coming a distant fourth behind Ifeanyi Ararume, candidate of the All Progressive Grand Alliance (APGA) who came third in the election won by the People's Democratic Party (PDP) candidate, Hon. Emeka Ihedioha, the strange Supreme Court judgment of January 14, 2020, declared Uzodinma as governor.
Though the court judgment seemed initially to have brought the duo together, with Okorocha congratulating Uzodinma on his victory and promising to work with him, and even the then chairman Oshiomhole sang in ecstasy, "We are reconciling; we are reuniting as victory comes our way, we put the past behind," Uzodinma apparently saw it differently.
When he eventually met Okorocha and the duo shook hands in reconciliatory mood, he quipped in pidgin English, "I don catch you na," (I have finally caught you). Though the remark was laughed off by the crowd of cheerful party members at the venue, it turned out he meant what he said.
Uzodinma has since taking office as governor, devoted much of his efforts on Okorocha, whom he accuses of converting state properties to personal use, and has set out to recover same. Okorocha who had welcomed the sack of Ihedioha who started the push to recover properties from him, soon discovered that Uzodinma is even a more determined adversary.
The retiring judge, Justice Njamanze had in the judgment delivered on Monday last week, ordered a final forfeiture of all the properties contained on pages 226 to 272 of the state government white paper on recovery of lands and properties allegedly belonging to the state government.
The properties which were not less than 47 were said to belong to the members of the Okorocha's family and associates. Njemanze held that Okorocha failed to convince the court on why a final forfeiture order would not be made in respect to the properties in question.
Other properties affected by the judgment include Owerri magistrate quarters, Orlu road/cooperative office/Girls Guide allegedly converted to private use housing market square, Kilimanjaro eatery; Public building plot B/2 Otamiri South Extension Layout given to the ministry of women affairs for establishing a skills acquisition centre for women, allegedly acquired for the benefit of Nneoma Nkechi Okorocha's all-in stall, Aba road, Plot P5, Naze residential layout, initially part of primary school management board but now annexed to All-In Stall, Aba Road, belonging to Nkechi Okorocha, Okorocha's wife.
Okorocha and his wife, have, however, appealed the judgment at the appellate court, Owerri division, marking the start of another marathon court process. But one which observers say is likely to end like the first.
"If the forfeiture order was based on proper findings or facts, which I believe it did, it should stand and I think it will stand even if he goes on an appeal all the way to the Supreme Court," said Bob Okoroji, Imo born, Lagos based constitutional lawyer.
"If you look at Okorocha's assets within and outside Nigeria, you will agree that he couldn't have acquired them legitimately. Prior to his emergence as governor of Imo State, he had no known business other than philanthropy. But philanthropy is only done when you have done businesses and become successful.
"What is important is that there is sincerity of purpose on the part of the Imo State government led by Senator Hope Uzodinma. He must ensure that he follows the rule of law recovering those assets for the people of Imo State, so that there will not be another way of using the courts to take the properties away in the future."
The court case is only part of a larger battle between Okorocha and his predecessor, Uzodinma; one the former had vowed that the latter would not win, but Uzodinma with executive powers and obviously the stronger party in the conflict, appears determined to make the predecessor pay for "his sins."
The governor appears relentless. He had months ago listed properties and monies to be recovered from the former governor to include, "N59.6 billion taken from the local government, Eastern Palm University built with Imo money, N96 billion stolen portion of Imo's IGR for eight years, N40 billion siphoned through the unexecuted 27 general hospitals projects, Old IBC premises at Orji, Nekede and Orji Mechanic Villages."
Other properties mentioned on the list are, "vast expanse of land on the Sam Mbakwe Airport road was acquired by the Government for the purpose of attracting a Naval Base, Adapalm in Ohaji which Okorocha said was leased out to investors and left in ruins till date, Westbrook Hotels which was built by Okorocha's son-in-law, Uche Nwosu.
"WODDI Wellness Center owned by Okorocha's wife, Nkechi, built on the former Imo State Secretariat Annex, a land forcefully acquired from the State by Uche Nwosu as Commissioner for Lands. The Reach FM owned by Uche Nwosu, without any known legitimate means of owning such huge property.

"The multi billion Naira Farmers market built by Geraldine, Okorocha's sister, on a land belonging to the State; over twenty-five plots State land acquired by Uche Nwosu upon which El Freeda Foundation was built. This is the Foundation through which billions of Naira had been laundered out of the State.
"Extervia Mega Supermarket opposite Civic Center Estate owned by Ogechi Ololo, Okorocha's sister. Municipal Plaza owned by Nkechi Okorocha built on a land forcefully acquired from a civil servant by Uche Nwosu. Twitter Bites acquired by Geraldine Okorocha forcefully from Mr. Fans. Spibat Estate most of which land was forcefully taken from Mbieri people by Okorocha; House of Freeda Malls in Owerri, Abuja and Lagos built by Uloma, Uche Nwosu's wife," among many others.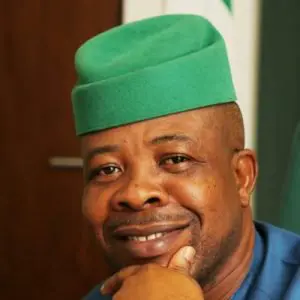 But it's a conflict the former governor's supporters believe is simply about personal vendetta. His media adviser, Sam Onwuemeodo, had argued that Uzodinma is in "pursuit of Okorocha for no just reason."
But for the generality of the people it's a deserving comeuppance for a man they allege stole their state dry, and indeed attempted to impose his son-in-law as his successor.
"Okorocha's travail was predictable," Chief Goddy Uwazurike, president of Cultural Credibility and Development Initiative, had noted. "He forgot how he came to power and suddenly began to see himself as too big for Imo state. In other words Imo state should be grateful to him for condescending to serve as governor.
"The story of Okorocha sounds like the folklore story of the man who was so well fed that he challenged his chi (god) to a fight."
Indeed, as governor, Okorocha loomed large. He was an emperor who brooked no opposition. You were either with him or you were against him. And if you were against him, Imo could easily become too hot for you.
The likes of Martin Agbaso who helped him to power in 2011 learnt the hard way. Agbaso, for the key role he played in Okorocha's emergence in 2011, probably expected to share power with the governor. But he wasted little time in running him out of town.
Even the clergy were not spared. At the funeral of late Mrs. Juliana Mbata at the St. Micheals Catholic Church, Ngwoma, Owerri North LGA in 2017, the Archbishop of Owerri Catholic Archdiocese, Most Rev. Anthony Valentine Obinna had admonished Imo people to get their permanent voters cards and endeavour to vote out bad leaders.
Archbishop Obinna is a hugely respected Catholic clergy in a predominantly Catholic Imo state, but that mattered little. Thugs loyal to Okorocha charged towards him and were only prevented from attacking him. It was captured in a video that went viral.
"I happen to come from the same Orlu zone as Okorocha, and there's nothing I can point out to say that he did. In fact, he ruined Imo economy. There is no disaster worse than Rochas Okorocha government in Imo State, other than Otokoto that destroyed Owerri city," Okoroji said.

Okorocha, once widely considered a presidential material; a potential candidate for Igbo presidency – having run spirited campaigns in 2003 and 2007 – had unraveled as governor. He wielded enormous power as Imo helmsman, but with it came hubris.
Having strategically positioned members of his family in government – he had created a Ministry of Happiness and Purpose Fulfillment and put his sister, Mrs. Ogechi Ololo in charge as commissioner; his wife, Nneoma, according to him, oversaw the state's amnesty programme, and, by his own words, directed the affairs of four ministries – he attempted to cement his family's hold on power by installing his son-in-law, Nwosu as his successor, but inevitably failed and ever since, his political fortunes have gone downhill.
Though he had managed to secure the Imo West senatorial seat in 2019, an election the returning officer of the Independent National Electoral Commission for the zone, Prof. Ibeabuchi Izuchukwu, said he was forced to announce, as it was not a reflection of the actual voting, Uzodinma has since taken control of the ruling party's structure in the state, and Okorocha's future is ever more bleak.
But for many residents of the state, however, it's not particularly a battle between good and evil, but a clash between a man they consider a failed governor and another they consider to be failing, perhaps, even more spectacularly.
"It is hard to have sympathy for Okorocha because he turned the state into his personal property when he was governor," said Emeka Duru, a business owner in Orlu. "But at the same time, Uzodinma has not done anything meaningful since he became governor."
For some members of the APC in the state, the party to which the duo belongs, the fight is an unnecessary distraction.
"The ruckus is unnecessary and completely ill-advised," argued a chieftain of party, Prof. Nnamdi Obaraeri, "How does that help the fortune of APC in Imo State and South East at large? Is it not counterproductive?
"How does that disagreement address the crying need for a Nigerian President of Igbo extraction in 2023? How does that solve the critical issues of insecurity in the South East and the agitations by the IPOB and recent military actions and bombings in Orlu Zone?"
Evidently, Okorocha had joined the APC alliance with seeking federal power in mind. But that appears far-fetched at the moment, even though he appears to be pushing his case, still.
Last week, he promised to build a tuition-free Islamic university in Daura, President Muhammadu Buhari's home town in Katsina State, to be funded by the Rochas Okorocha Foundation.
Days before, he was awarded the title of 'Maga Alherin Kasar Hausa' in Daura, perhaps as part of efforts to build goodwill in the North.

But in what appeared to be an opposition to his quest in the Southwest, the Eselu of Iselu Kingdom, Akintunde Akinyemi, on Monday announced the withdrawal of the conferment of Otunba Asoludero chieftaincy title on him.
The traditional ruler also cancelled the installation ceremony which was earlier scheduled to hold on September 19, as contained in a letter dated August 9, signed by the monarch and addressed to Okorocha.