By Modesty Vitus Ezenwa
MUST I FOLLOW IKEDI OHAKIM TO APC?
MUST I MOVE INTO APC WITH IKEDI OHAKIM?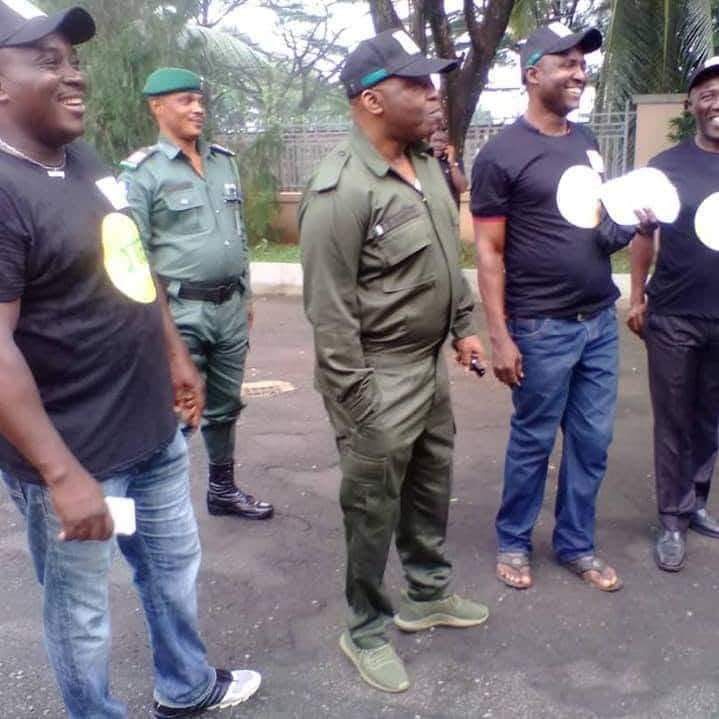 I was invited to a very crucial and exclusive meeting that preceded the movement of HE Ikedi Ohakim to APC. Though i didnt attend the meeting, i gave assurances that i would abide by the terms of the meeting. My word is my bond!
My master, mentor, principal, friend and role model, Ochinanwata of Mbano and Ogbughereuzo Umuobom has finally pitched his tent with APC.
This movement has created serious challenges.
Recall that we joined Ohakim in 2018 and moved with him to APGA. When this party was Ararumerised, we moved to AA. When we lost the elections in 2019, our principal directed all of us to support Ihedioha and we did. Many rushed to their various wards and took leadership positions in PDP. This cost money! some of us decided to withdraw to our corners, looking furiously and calculating the paces in Owerri. This also led to loss of patronage.
And all of a sudden, Hope Uzodimma came in. And our moods changed. Hope , to some of us, was not the Imo's answered prayers. Never imagined and never envisaged. His advent was just a crashing spoiler and we kept seeing this government as a temporary set back. That is why many serious penpushers are still maintaining some canonical distances. Chijioke Oleru Emmanuel , the enfant terrible from Mbaike and one of the most violent and fearless pugilists from Ikedi Ohakim's camp has not hidden his hatred for Hopism. Nzenwa GOC and Justice Onyenanu have not dropped an ink in support of Hope. I have not read Onyewuchi, Darlington, Jude Akagbusum, Umeh Henry, Ume Jasper etc. I don't know why Maazi Akuwudike is silent at the moment. I have not read any pro-Hope's from the table of the great analyst, Jude Jasper Ume.
Are we leaving these finest creak behind as we move into APC
The news of the movement of Ikedi Ohakim came at the period when the hatred for Hope Uzodimma was brewing in bar parlors in Owerri. The Gadflies were still calculating on the next line of action. Critics were busy assessing the situation while the blogs and social media waves were not too much in favor of any formal alignment with the present government. At least, for the moment. Some of us needed more time to understand the government in Owerri. The situation is not clear and the paradigms for assessing the performance of Hope keeps titling. To be fair to some of us, we need little space and time to come to a decision.
Those who fought in trenches for Ohakim should be convinced further. More consultations are expected in the coming months. It will be very disappointing if we begin to entertain gunshots from among us. Our most lethal marksmen must be reached if we want to enjoy peace in this marriage with APC. We know all of them.
I think those who are not comfortable with the new decision of Ohakim should be excused. No blackmail please. Not everybody can have the patience of followership. Between the time we heard from Ohakim and the current moments, a lot of political understandings have taken place. You wouldnt expect all persons to be in agreement with the notes signed at Burma Retreat yesterday.
There are some of our people who have gotten positions in the oppostion parties. Do we expect them to turn towards us? Greg Nwadike my good friend is the State leader of PDP. Perhaps we expect him to resign??? Not all have the grace of 'follow follow' Some should be allowed to excise their moral freedom and have strings into their personal judgement. You must not follow Ohakim from PDP to APGA, and from APGA to AA and from AA to PDP and from PDP to APC. This is a circular movement and you will be mentally cleaned up if you religiously embark on such.
Our love and support for Ohakim can be localised in him and not extended to whoever that does not work for or merit it. I love Ikedi. I supported him with all my heart. I still believe that he is the best hand around. But I cannot be forced into matrimony with Hope. Ohakim worked for the trust I have for him. I am not sure if Hope has done so. We may not jump into the wagon simply because our leader dediced to have a ride with his old friend, Hope. Ohakim has much to loose if he remains out of government. I dont think i have ever gained from the government and as such, I have nothing to loose if I refuse to support the government in power.