The Deputy Governor of Imo State, Prof Placid Njoku has warned Shared Prosperity Am­bassadors of Governor Hope Uzodimma to comport them­selves crediblly and responsibly as they go about discharging the duties assigned to them.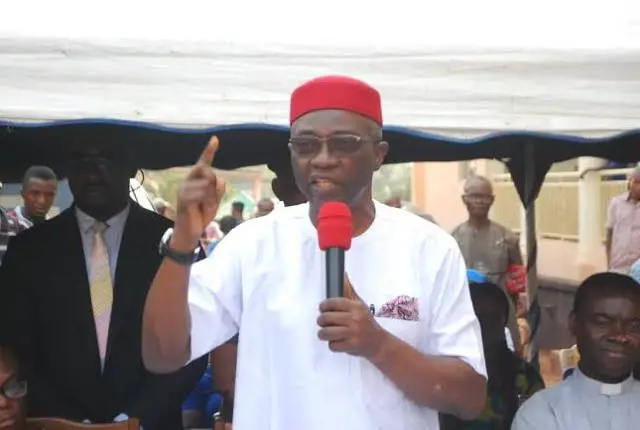 The Deputy Governor spoke Tuesday night when the ambassadors and their co­ordinators drawn from the 27 local government areas of Imo State paid a courtesy call on the Governor at the Government House Owerri.
The ambassadors and their coordinators are to help drive Governor Uzodimma's Shared Prosperity Agenda throughout the nooks and crannies of Imo State and even beyond.
Prof Njoku who represent­ed Governor Uzodimma at the event charged the menbers "to maintain the standards and qualities of the Governor and avoid debasing the ethos for which Hope Uzodimma is known."
The Deputy Governor not­ed: "To be an ambassador is to represent the principal both in name and in character. There­fore, to be ambassadors of Gov­ernor Hope Uzodimma you must be always God-fearing, transparent and accountable, respectable and responsible as well as being genuine in all your dealings."
Prof Njoku insisted that the above qualities are what Distin­guished Senator Hope Uzodim­ma, the Governor of Imo State is noted for.
"Governor is a child of God, who has found enormous grace in God. With God on his side he has been able to surmount and overcome initial challenges he met at the inception of his ad­ministration, which made him unique. He came, he saw and he conquered."
The Deputy Governor told the ambassadors that Gover­nor Uzodimma has been able to put a stop to most of the bad things that were prevalent in Imo State before he assumed office and that he has refused to hand over Imo to bandits and vampires, a situation that has made it possible for the State to return to the path of peace.
Prof. Njoku congratulated members of the Shared Pros­perity Agenda for choosing the right course of political align­ment.
He noted that the Governor is always willing to work with them and assured the group that "working together with the Governor, Imo State will be transformed for better."