…as Nwaogwugwu label Akwarandu as irresponsible.
There have been serious war of words, between Mr. AIC Akwarandu, the New Media aide to former Govenror Rt Hon Emeka Ihedioha, and the former New Media Director of the Imo State Chapter of the PDP, Mr. Ambrose Nwaogwugwu, who recently dumped the party for the Hope Uzodinma administration.
Trouble supposedly started, when Mr. Akwarandu made a post on his Facebook handle, which Nwaogwugwu probably assumed was targeted at him.
The post reads as follows;
"Call it politics, call it whatever you like, any man who can lick his own vomit is an irresponsible person.
You can't spend your time saying a tree is mango, after convincing people to believe the tree is mango, you come back to tell them that the tree is no longer mango.
Haba!!! How did we become so irresponsible just because of politics? God forbid!!!"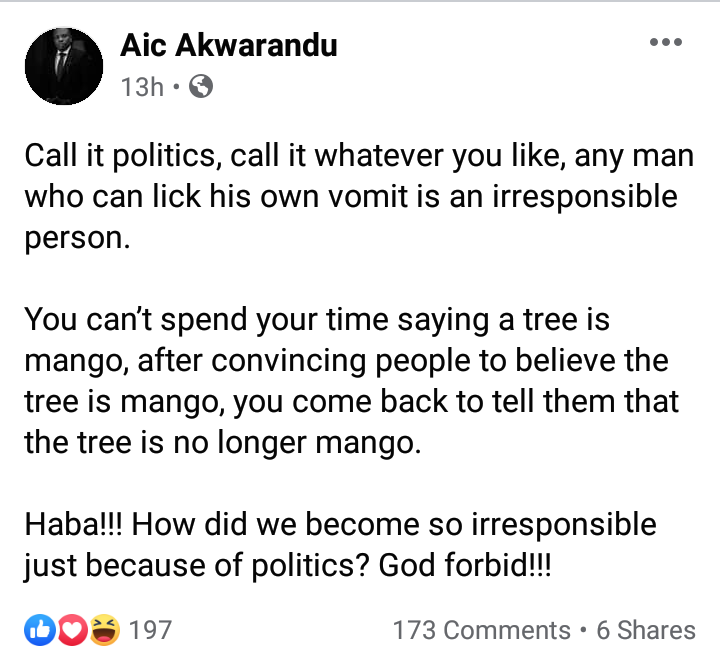 Nwaogwugwu, not known for being subtle in addressing issues, would call out Akwarandu in a post on his Facebook page labeling Akwarandu as irresponsible.
His response reads as follows:
"I wrote the other day, that we are all hypocrites, but not many people got the points; and I still repeat, WE ARE ALL HYPOCRITES.
Denying the facts by counting yourself out does not mean it doesn't exist.
Those who know me, know that I call things by their names, I don't pander with words or alias. I go straight and call it out by their names.
Aic Akwarandu, wrote that people who go back to their vomit are irresponsible people, meaning that he – Aic is also an irresponsible man.
I have been on this street long enough that I know almost everyone of us.
Going by Aic's school of thought, going back to Ihedioha, he wrote severally against with harsh and uncomplimentary words, when he worked with the then Sen. Chris Anyanwu, means he too is an irresponsible man.
For those who may not be in the know, at very beginning, Aic worked with the then Senator Chris Anyanwu and while working with her, there was no unkind words that he did not use in writing against Ihedioha, until he was brought into the camp of Ihedioha.
I know that not many of you today know that part of history on this street, but that's a fact.
We have become so hypocritical, that we assume a sanctimonious status to pontificate saintly, as those without a blemish that only those caught in the act will only be guilty, even when we are equally guilty of what we may have preached against, just simply because we assume that people may have forgotten our own dark past.
Like my brother Prince C C Nwogu raised a poser on that post, Aic praises the likes of Tambuwal, who have severally decamped from one party to another, but finds it convenient to critique the likes of us.
If people should even be criticizing or any other person, people like Aic do not have that moral rectitude to raise a single word.
I have been on this street writing politics for over 10 years and I know who is whom."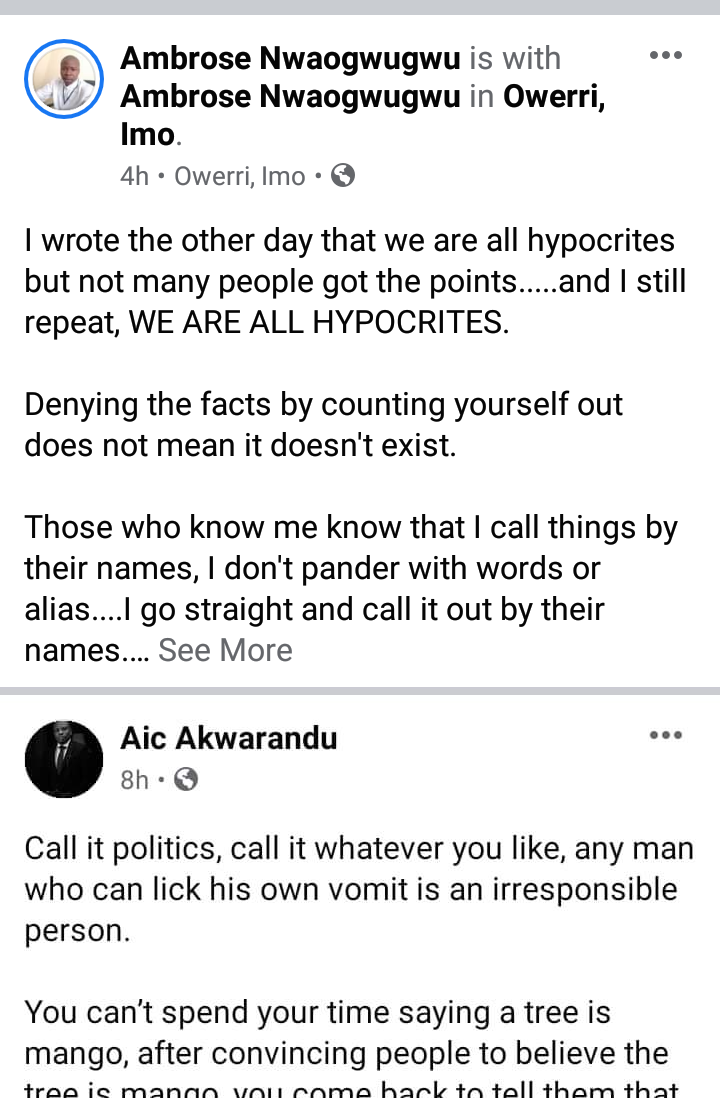 Akwarandu would react directly to Nwaogwugwu's attack in a short but direct post of his own, which reads as follows:
"Dear Ambrose Nwaogwugwu, stop tagging me and responding to issues that has nothing to do with you. I made a post as regards to pictures of FFK flying around and how a lot of people tagged it "politics".
To think that I will bring out my time to talk about an issue as insignificant as yours is almost very Impossible. Pls stay safe."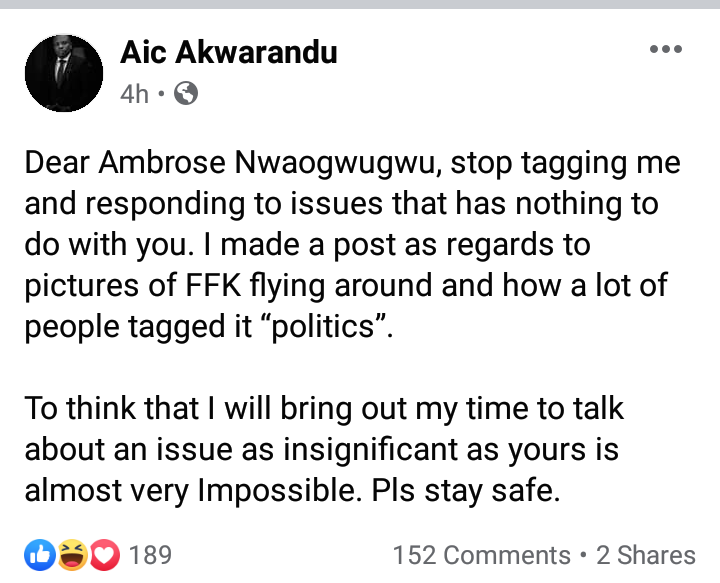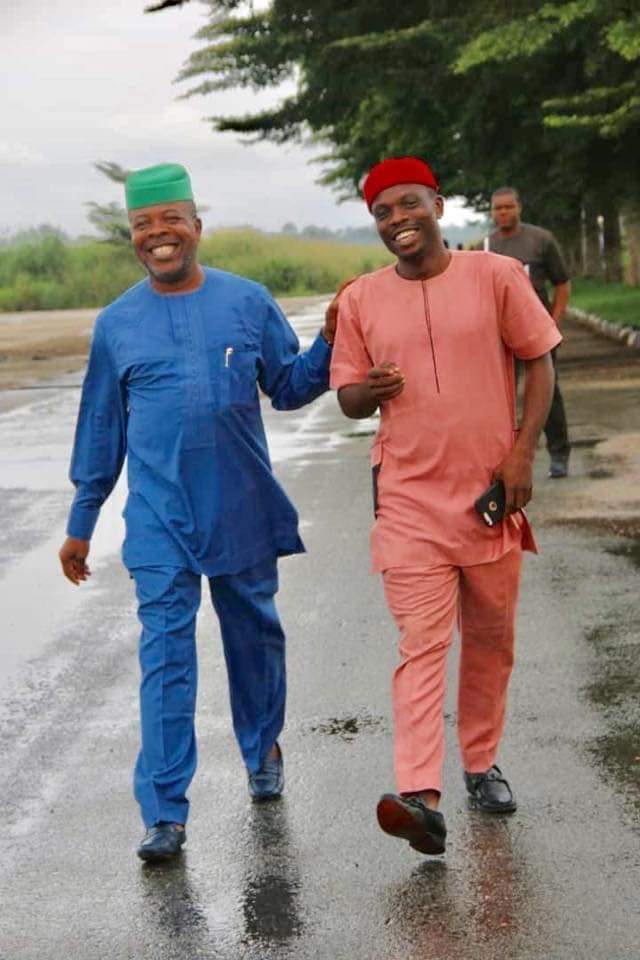 Nwaogwugwu and Akwarandu, both from Mbaise nation, have been close associates to the former Deputy Speaker of the National Assembly, Rt. Hon Emeka Ihedioha.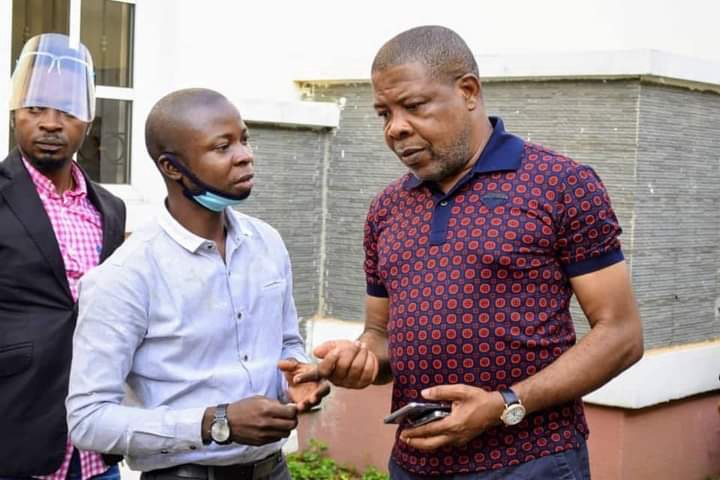 Nwaogwugwu have been at the receiving end of attacks from former associates, since he made the decision to dump the Imo PDP, and embrace the Hope Uzodinma led administration.
Akwarandu has noticable avoided reacting to Nwaogwugwu's move, and his post most have been misunderstood by Nwaogwugwu, as him finally reacting to Nwaogwugwu's move.
Their guns seem to have seized firing for a while after the post from Akwarandu.