There was reactions yesterday over the visit of the former Imo State Governor, Senator Owelle Rochas Okorocha who is a member of the All Progressive Congress (APC) to Peoples Democratic Party (PDP) control Rivers State.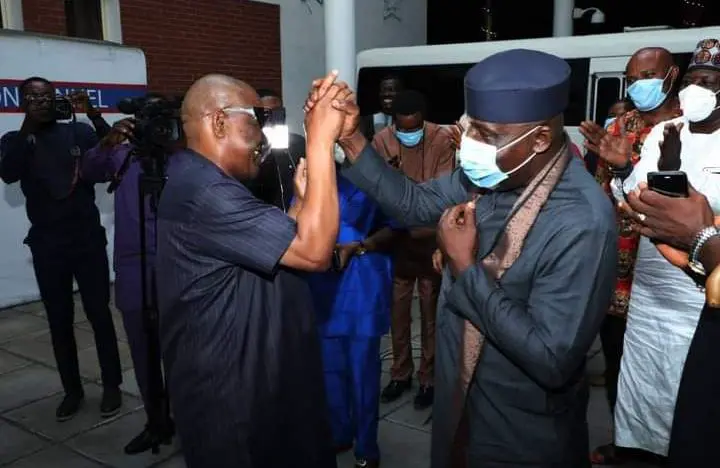 The reactions came after the Rivers State Governor, Ezenwo Nyesom Wike took to his social media platforms to announce the arrival of the former Imo State Governor to the State. He also posted the photos of the arrival of Senator Okorocha and his entourage at Rivers State Government House, Port Harcourt. The news necessitated mixed reactions in the comment section of his post.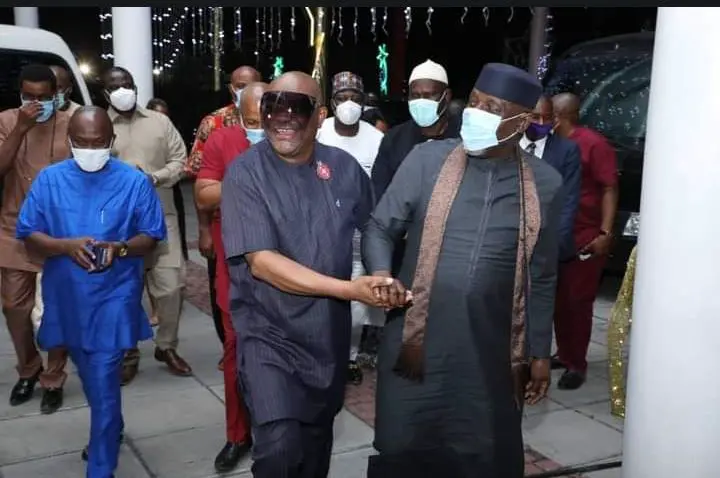 Though the caption of the post revealed the reason the former Imo State Governor visited the oil rich Rivers State.
In the post titled "Governor Wike welcomes Senator Okorocha to Brick House," Governor Wike said Senator Rochas Okorocha is in Brick House to enable him commission projects today, Monday, January 11, 2021.
According to Governor Wike, "Senator Okorocha, is in Rivers State to commission Rumuche-Rumuakunde-Ohna Awuse Road in Emohua Local Government Area tomorrow, Monday 11, 2021."
He also revealed that the "event scheduled for 11a.m will have the former Imo State Chief Executive as Special Guest of Honour."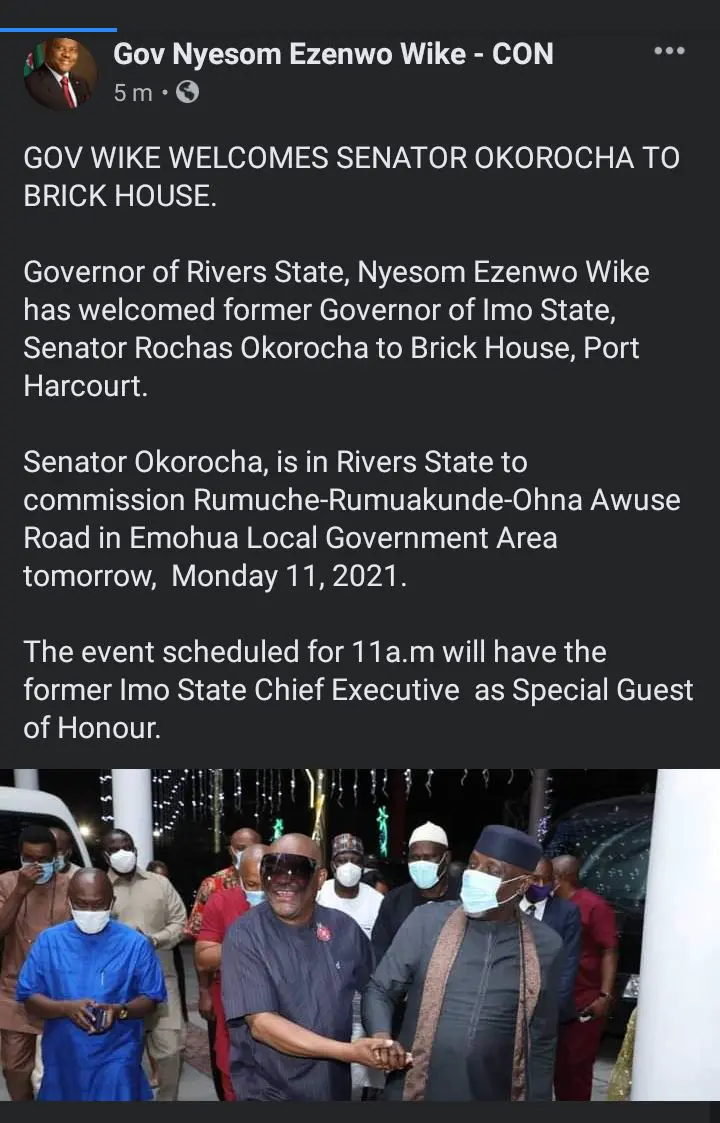 Since his swearing in as the Governor of the State, Governor Ezenwo Nyesom Wike has demonstrated his capacity as a man of vision and and someone who will go all out in ensuring that he bring development to his people.
Recently, he assured the people of Rivers State that his administration will made sure it bring development to all the Local Government Areas of the State. So far, he has being touring different LGAs of the State in commissioning different projects.
The invitation of the former Imo State Governor, Owelle Rochas Okorocha to the State is not as surprise also, as Governor Wike during the commissioning of Aker road said he "will not invite any leader who is not doing anything in his State or for his people to come and commission projects in Rivers State."
This means he considers Senator Owelle Rochas Okorocha as someone who has done enough to earn his invitation to Rivers State for projects commissioning.